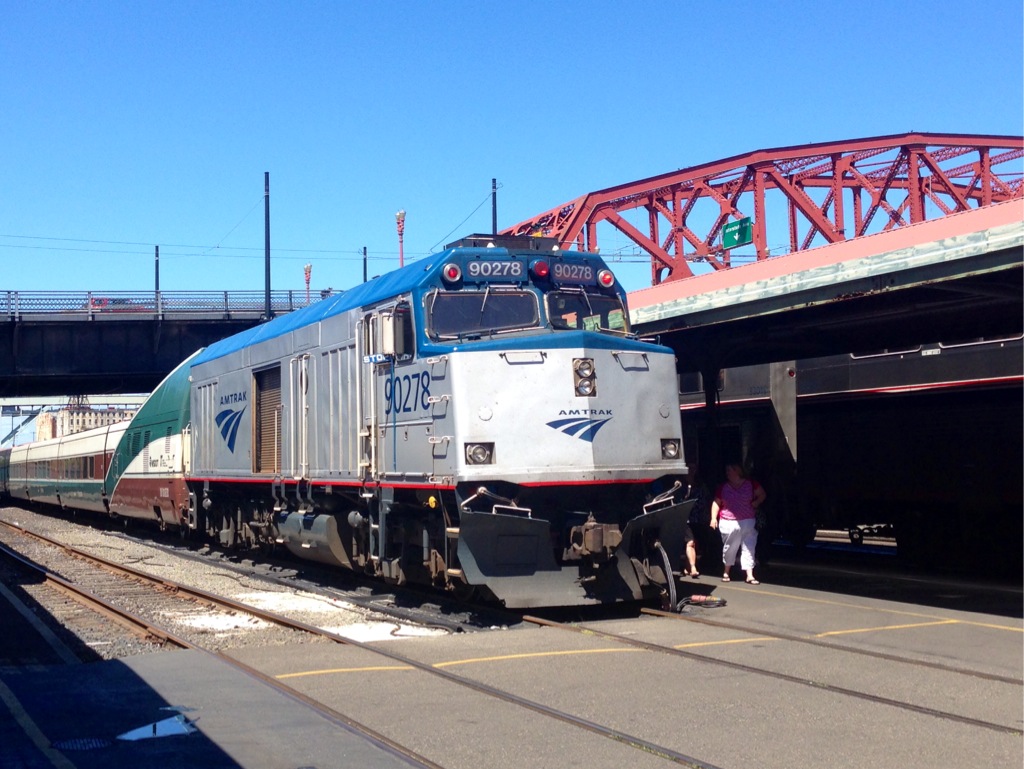 Last week I rode the Amtrak from Portland to Cleveland, just for fun. And, of course, to get somewhere.
I'd only ever been on trains in Italy and Thailand and was wondering how much different they might be. I couldn't afford a sleeper car by myself so I booked a single seat for the entire three day trip, figuring I could spend my days walking around the cars to exercise my sore butt when I sat too long.
The price for the trip was great, only $280, and I could bring all my luggage without those horrible checked-bag fees from the airlines. The only downside to traveling that long for a great price was having to deal with people nearby that I wouldn't normally want to talk to. While most people were great, one man got on the train, turned to his nearest neighbor, and instantly started talking politics; abortion, welfare, how 'those blacks' in Ferguson were only causing a fuss to make money. People like him are precisely the reason why I wear headphones at all times, even if I don't have any music playing – it's a great way to eavesdrop while not having to get involved in a conversation that would make me want to punch someone. Another guy, maybe 25 years old, turned to his neighbor, a hippie with long dreads hand-sewing patches on his raggedy pants, and struck up a conversation about how awesome his motorcycle is, and how he regularly outruns cops. When the dreadlocked guy failed to have any satisfactory response, he changed the subject to how he owns the greatest new computer and gadgets, and is the most tech savvy of anyone he knows, which got him a couple of nods and the same basic non-acknowledgement or care. Neither of the speakers, obviously, knew how to choose the proper audience for their platforms.
Another aspect of life on a train is dealing with people's general presentation. Smells. The hippie guy probably hadn't showered in a week, which made me consider suggesting a policy to Amtrak about hygiene. Maybe free showers should be provided for people traveling more than a few hours. It was actually a bit of fresh air when the guy started peeling and chewing on raw garlic. But people need to get to where they're going, and if Amtrak is the most cost-effective, then good for them for doing their traveling.
My in-car conductor was great; he snuck me into the sleeper car during a great sunset so I could take a picture from the back of the train when I told him I was documenting my trip. He regularly came to my seat to point out upcoming points of interest, and kept me informed of stops and the workings of the train.
The first leg of my trip ended up being six hours late, due to heavy freight traffic. This possibility was disclosed when I purchased my ticket, but as I wasn't in any big hurry I didn't mind. The entire train received a free meal as an apology. The food was good. Aside from coffee every morning, I didn't eat any other meals on the train, I had brought a bag of food to eat in the observation car. I figured that if I had to be on a train for three days I should be prepared with food that I knew would agree with me. And I was on a budget. But the bathrooms were surprisingly clean and plentiful. Important for long distance travel.
I had a six-hour layover in Chicago that I was half-planning, wondering what I could see in the city without getting too lost and miss my connection. When we pulled into the station, six hours late, the conductor pulled the train directly up to the departing train for those of us making the connection, we only needed to walk 10 feet to our new train. This, I was told, was not normally done, but they did it as a courtesy for those of us about to miss the Lakeshore line. We made it with a few minutes to spare, and I was grateful. And my parents were grateful that I was going to get home on time, not a day later.
I did have an ulterior motive to taking Amtrak across the States. I had read about the writers residency program that Amtrak offers and wanted to apply; but by the time I heard about it, over 20,000 people had applied and the program was shut down for the year. What better way to get a jump start on my application for next year than to take a train, post pics along the way, and show them how much I loved it? I did get some writing done on my new book, but enjoying a private suite while working would definitely keep me from getting as distracted as I was in my seat. I just can't help listening to everyone around me, good or bad, which is one of the great aspects of travel.
Overall, I loved the trip. I spent three days watching the scenery, thinking, making new friends, relaxing. And I can't wait to do it again.
Visit my Instagram, Twitter, or Facebook accounts to view the original posts from the train.
Get Wandering on Amazon.