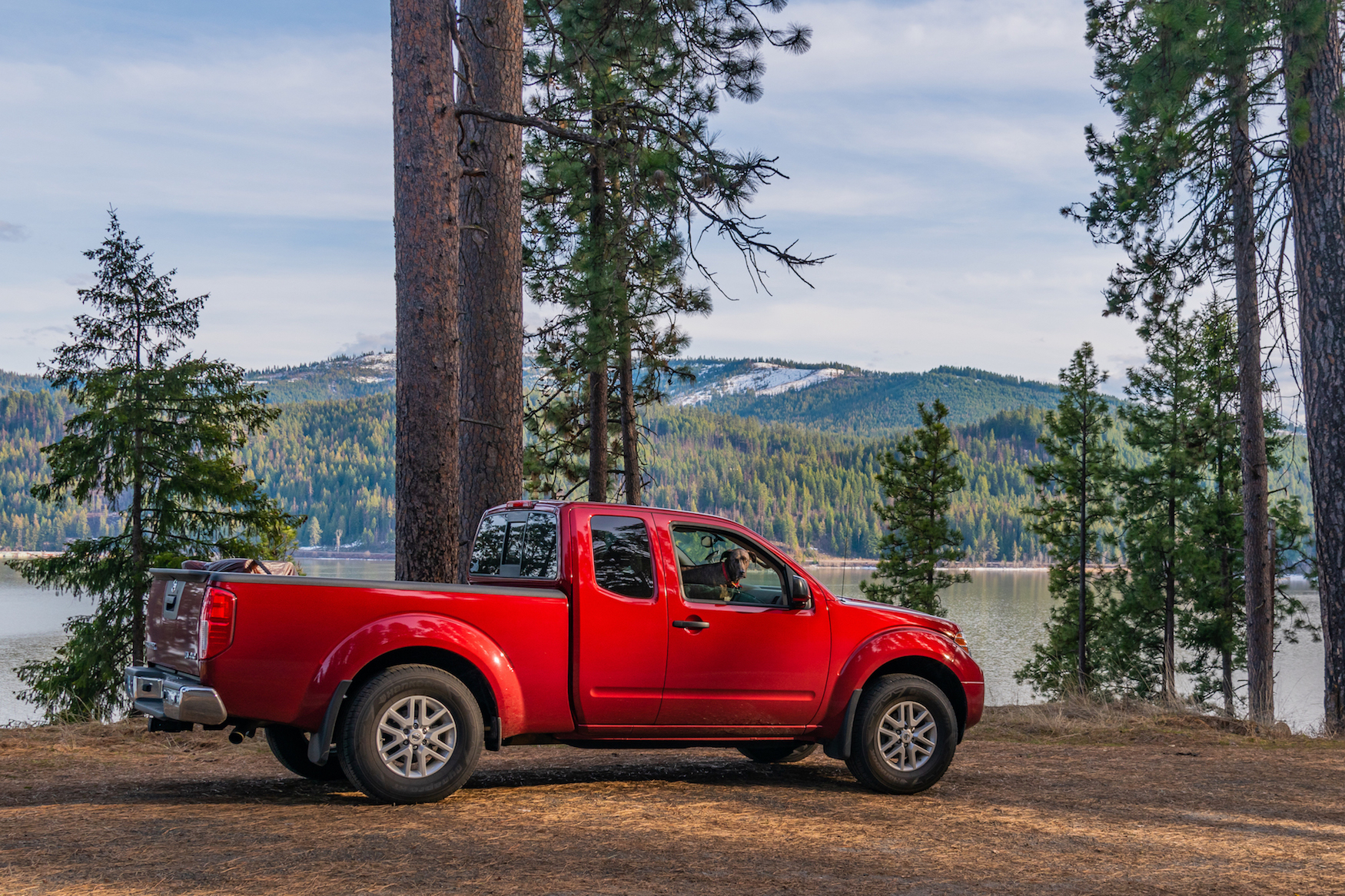 Today I find myself in Whitefish, Montana. I could live here.
I did some hiking and sightseeing in Coeur d'Alene (which I haven't yet successfully spelled correctly without Googling), and it is a beautiful town. I was going to dedicate this post to CDA (easier to spell), but then I got to Whitefish and now think it's a dump in comparison. Whitefish is easier to type, too.
Lucy and I drove around Lake CDA, which is quite a distance, and really is breathtaking. Long, long lake surrounded by evergreen forest and snowcapped mountains, with a windy road along one side. That about sums it up. I was looking for a picturesque spot for sunset photos and severely underestimated how long it would take to drive around so most of it was seen in partial darkness. We had our first wildlife scare on the way – deer running across the one-lane road. Fortunately, I was driving at annoying-tourist speed.
We packed up the next morning and drove the steep mountain roads into Montana, and I have to admit I was somewhat terrified at times. Signs posted every few miles told me to watch for ice, or that the bridges are icy, or the shady spots are icy, and since I haven't driven in snow in years I immediately assumed the entire roadway was a giant sheet of ice. I spent hours barely going the speed limit, sometimes under and hoping my Hawaii license plates would allow people to forgive me, while imagining my truck sliding off the mountain, tumbling several times, and ending in a fiery crash at the bottom in a fluffy pile of snow. Realistically, though, it was only drizzling, most of the snow was melted and not a drop on the road, and I am accustomed to my imagination running off in random, horrible directions. The temperature was in the low-40s and I didn't see any evidence of other people hurtling to their deaths. The scariest part was at one of the peaks before the curving 6% downgrade, raining and foggy with snow cover all around in the forest, and I was at least happy I couldn't see enough through the fog to the bottom of the valley. Needless to say, we lived, although I really could have used those CBD gummies I bought in Portland – just for this occasion – which were buried somewhere in the back of my truck.
After surviving the first few miles of Montana, we turned up toward Whitefish on mostly one-lane roads; these were pretty clear and the driving was much less stressful. All in all, though, my journey thus far from Portland has had me poking Lucy to wake her up every few minutes to tell her how beautiful it is. Or that she's missing a herd of cows.
I had randomly selected The Pine Lodge in Whitefish and made a reservation that morning (since it is now even colder and rainier and I will not be camping), and it was a good choice. This is a great place to stay, right along the Whitefish river but just outside town. Lucy sniffed the carpet, but only a fraction as long as in CDA, so it is definitely a clean place. I thought that might be a niche job for my dog – hotel cleanliness inspector. You would be rated according to how many seconds it takes Lucy to cover the room.
Lucy and I were both super stressed from the drive so the first thing we did was find a dog park for her to run. Whitefish seems to be a very dog-friendly town, as evidenced by the 200 dog grooming, boarding, and pet stores we passed. We found a 5-acre dog park, mostly mud at this time of year, and she ran her brains out with another dog she met. And since she was already long-overdue for a bath, we went to a do-it-yourself dog wash store (omg who knew these existed??) and now she smells like strawberries. She hated every moment of it, and I ended up spending 10 minutes wiping down the walls and floors of the room since she somehow sprayed water several feet into the pet food area.
Many of the roads in Glacier National Park are still closed so Lucy and I found a trail to hike that didn't require driving through the snow up to the mountains this morning. I do want to hike Glacier sometime, but I'll have to plan that better. We went to Swift Creek trailhead (I had chosen a different one but somehow couldn't find it). Grizzly bear season is starting and warning signs were posted everywhere. I've wanted to see a bear for as long as I can remember, so we started down the trail with high hopes.
I imagined that my first bear sighting would be something like the first time I went scuba diving to look for Laverne, the famous Kona tiger shark. Totally excited at first, ready to observe and photograph one of nature's most fearsome creatures; but when I finally saw her I hid behind a lump of coral, hyperventilating and peeing my wetsuit. And forgot to take a picture. (For the record, I was much braver each successive time I saw her).
Lucy and I started down the trail, camera in hand (new, crappy camera – my good Nikon died in Portland and the camera shop couldn't fix it. I had to mail it to Nikon and I'm hoping to catch up with it further into Montana. I had to buy the best Nikon that Best Buy had to offer, which after my D750 is almost archaic. Still, better than my iPhone). The forest was completely silent, and the smell was something I had completely forgotten – glorious wet evergreen forest smell. The trail was icy in places and the going was slow. Lucy learned that if she dug a little hole in the snow she could stick her nose in and smell wonderful decaying things. She also learned that she loves deer poop.
And while I'm thinking of poop – the trail was wonderfully clean, in terms of trash, except for… yes, dog poop bags! Really. It's nice that owners are conscientious enough to pick up after their pets, but you have to take the plastic bag with you and put it in the trash! Poop bags of all the colors of the rainbow were along the trail. Idiots.
It took some time to walk the Swift Creek loop due to the ice, and we stopped off at the Creek overlook hoping to see one of the bears hunting fish (although I have no idea if bears do that everywhere, or if the bears here are like Yogi and just look for unprotected picnic baskets). I wanted to go to the lake to look for bears but it was two more miles of icy trail along a steep ridge and I had no desire to slide off the edge, so Lucy and I started back. I was trying to imagine what it would be like to run into a bear; I had no bear spray, and my hunting knife was last used to cut lemons and was currently residing in a bag with my kitchen supplies (but really I'd get mauled before I got close enough to use my knife – it's more a morale knife than a hunting knife). I wondered what Lucy would do. As a Plott hound, her breed was originally bred to hunt bear – but my dog, who is frightened of bridges and rustling plastic bags and the squeak that doors make – who knows. In my head she is ferociously protecting me, barking and driving the hungry bear away, but in reality I could see her trying to hide behind my legs, tangling me in her leash and causing me to fall on the ice, then we'd both get eaten. 
Enjoying the quiet and the relaxing smells of forest as we neared the end of the trail, dreaming of what to have for lunch, we were completely startled by a massive, shaggy brown thing running across our trail. A grizzly bear! Oh My God A Grizzly Bear! 
Much like in the ocean, I hid behind the nearest tree and peeked out, but thankfully I did not pee myself (much more obvious on land). Lucy was absolutely silent, standing rigid, staring ahead. I didn't know what to do. I looked around and saw I was near the entrance to the loop so going back wasn't an option; in fact looking a bit closer I could see my truck in the parking lot. I wondered what they would say if I called 911 and told them a bear was in the forest. So we waited, all the while peering out from behind a tree. It was totally quiet. Not even a chirping bird. 
And then I looked down at my feet. I thought I was standing on a stick, but it was a severed deer leg. The hoof, plus about 10 inches of bone with some fur. Lucy didn't even notice it, she was still in guard mode. Time to move.
I hadn't seen the bear for a few minutes, so we left the trail and crept quietly to the far side of the parking lot and reached my truck. After my heart started beating again I was upset I didn't have a picture, so I left my driver's side door open and Lucy and I cautiously headed back toward where we saw the bear. If we only went a little way in we could run and jump into the truck if we had a little head start. Supposing, of course, I didn't panic and slip on the ice and become this bear's first spring meal.
We stayed out another half hour but never saw her again. More deer, squirrels and birds, but nothing else. It was a great day. And like with Laverne, I will be a little braver next time I see a bear. But I probably won't be any braver driving. Wish me clear roads and blue skies for my next big drive tomorrow.
Aloha from Montana!
M
Help support the journey – Buy a book!
Wandering – non-fiction travel/adventure/humor
Sign up for this blog on the homepage to get updates on the trip, and watch Hawaii Ocean Photography for extra photos!