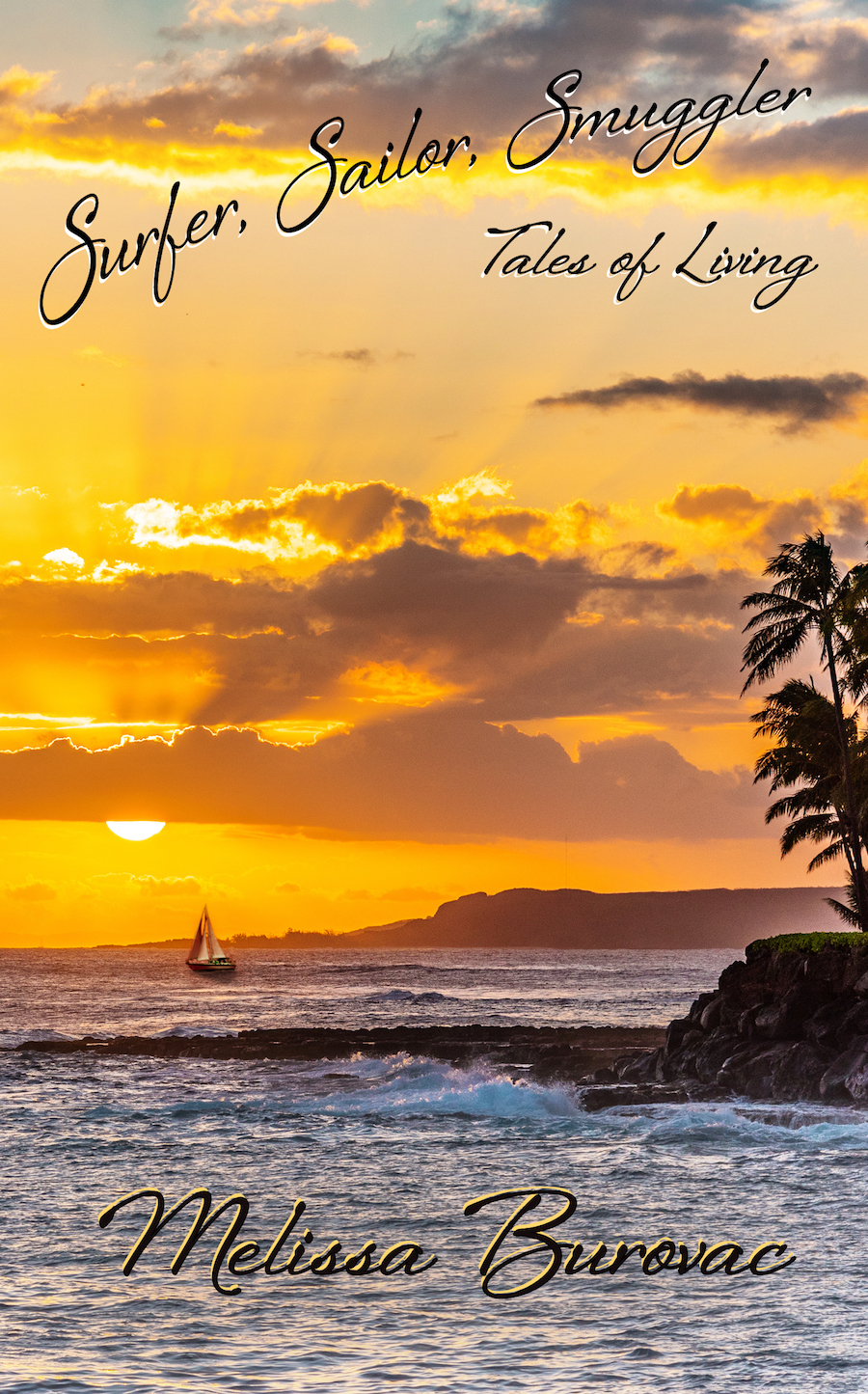 I'm excited to announce the Kindle release for
Surfer, Sailor, Smuggler: Tales of Living!
I was too impatient to wait for the paperback proof to release both versions at the same time, but cross fingers the paperback will be available next week. You might understand my impatience if you knew how much blood, sweat, tears and vodka has gone into this book over the past two years.
The journey began on Mark's boat, talking story and sipping cocktails. It progressed to taped interviews on Mark's boat with cocktails (it's hard to do anything on Mark's boat without cocktails – just don't let him be the bartender if you have any respect for your liver). Finally, after over a year of writing, rewriting, throwing it all out and starting again, rewriting some more, and several rounds of edits, a fictionalized tale – based on true stories – of surfers, sailors and smugglers is ready.
Two boys growing up together in a small California town are the best of friends. One conforms to his parents' wishes and follows a preset path to a career; the other creates his own path, sailing the world, surfing and smuggling drugs to Hawaii. Watch their lives diverge and reconnect through the years with tales of action and adventure, brushes with the law, Mexican cartels, and lost families and friends. Do they regret their lifestyles and the consequences of their choices as they approach old age?
Based on the true stories of surfers, sailors and pirates on Kauai.
I hope you love it as much as I do. And if you've managed to read all the way through to here, then I have a gift for you. For the first few days, Surfer, Sailor, Smuggler is free on Amazon for Kindle. This is my Thank You for sticking with me through these crazy writing years. Download it now before it goes up to normal price! If you don't use a Kindle, I'll have other electronic formats available soon, as well as the paperback. I will also be on Kauai and the mainland with copies – stay tuned for the dates!
As always, a review on Amazon is appreciated, as well as a recommendation to friends.
Thank you for reading, and have a great day!
Melissa
About Melissa:
Melissa is a writer and photographer on the Big Island of Hawaii. An avid outdoorswoman, Burovac enjoys outrigger paddling—both one-man and six-man—SUP, running, surfing, sailing, and scuba diving, as well as yoga. She is always up for adventure and loves doing things that scare her a little.
Books:
Leave a review on Amazon and I'll love you forever!
Recent articles:
Recent reviews:
For fine art photography prints from the islands, check out the Hawaii Ocean Photography  website and Like the Facebook page