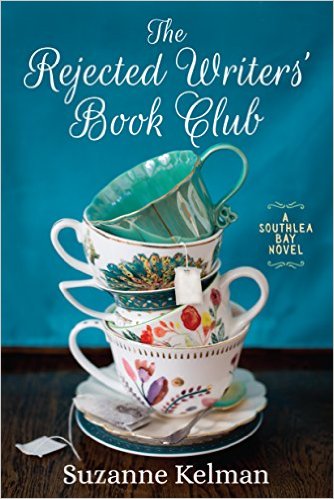 Aloha all!
I'd like to introduce you to fellow author Suzanne Kelman! Here she is, in her own words:
If you are visiting me for the first time, (cough, cough, of course you are), let me introduce myself, my name is Suzanne Kelman and I write, what I loving refer to as, "a lot of old nonsense" that people buy.  I have been writing humor (or 'trying to' if you believe my one-star reviews) for about 7 years now, and I have had my ups and downs, as writing humor can be a very serious business!
Her book The Rejected Writers' Book Club has almost 400 reviews on Amazon – "5.0 out of 5 stars A laugh out loud, crazy comedy of errors with unbelievably hysterical characters you just can't put down!"
The Rejected Writers' Book Club is about a quirky group of gals that get together once a month to celebrate their rejection from publishers in style. With tea and cake and collecting them in a large book. Things are going dandy until an expected event puts the group in peril and they have to go off on a crazy, madcap cross-country adventure to save the club.

I hope you are inspired to check out this great book!
See Suzanne's full blog post for more information about her, her books, and her podcast!
Melissa's Links:
Leave a review on Amazon and I'll love you forever!
Sylvie Writes a Romance on Smashwords – for Nook, Kobo, etc
Recent articles:
Travel Writing on JenniferSAlderson.com
Recent reviews:
Indie Reader Review for Sylvie Writes a Romance
Kirkus Indie Review for Sylvie Writes a Romance
Photography: