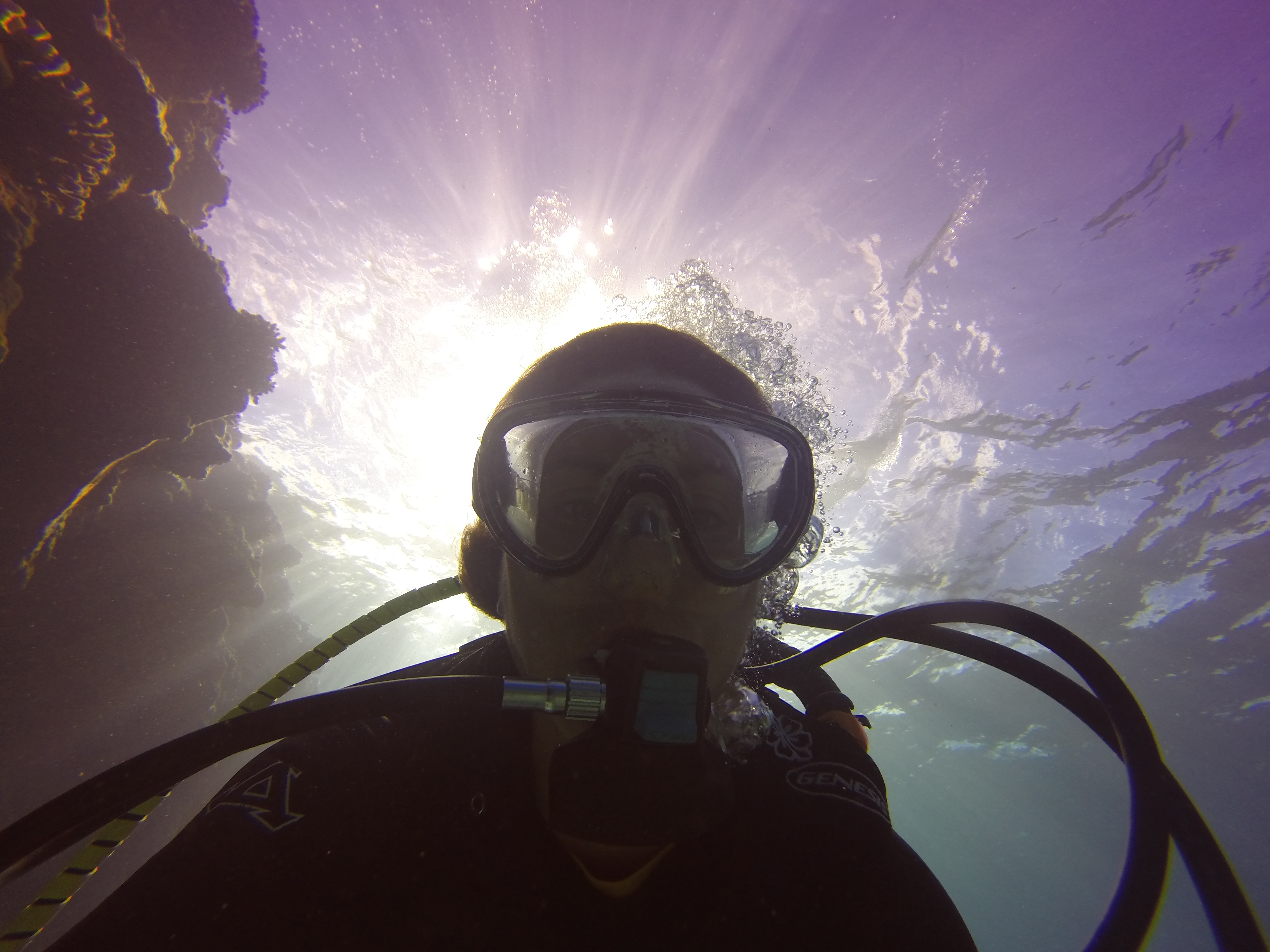 written at humpy's alehouse, kona 2-11-15
I really didn't want to go to the big island by myself.  I had a week off work, little money, and no desire to spend more time alone.  Shanti talked me into going, and after all, what was I going to do at home all week?  The same things I do every day, including complaining about my upstairs neighbor, and being alone anyway.  There was a big northwest swell coming in and my favorite camping spot would be too junky to swim, and way too big to surf.
I spent an evening trying to find flights, hotels, dives, cars, all the necessary vacation things, and failed.  I'm just not a good planner.  Every time I found a piece of the puzzle, I stressed that the other pieces would sell out before I could book them; for some reason, Valentine's Week is extremely popular in Hawaii.  Another depressing thought about being alone for vacation.
But Shanti persevered and booked my entire trip, except for the dives.  I had called in advance and made those reservations; there's no reason to go anywhere if I can't get in the water.  Dive shops have a much friendlier cancellation policy than airlines.
There are always little surprises when you let someone else book trips for you; I hadn't realized that my flight from Kahului to Kona was on a puddle-jumper plane.  Normally I don't mind them, but to get an idea of the conditions, a school in Kona cancelled because the wind gusts ripped off the roof that day.  And there were lots of kids who had no idea of what 'indoor voice' means.  Its pretty intense on a small plane, and I forgot my headphones.
We landed successfully and I retrieved my rental car.  I had a choice of a blue, four-door Hyundai or something that resembled a Smart Car.  I still envisioned that Andy might join me and I wasn't sure either of us could fit in the tiny car, even separately, so I picked the Hyundai.  I made it to Island Naturals to buy food, and ultimately to the Holiday Inn Express.  Shanti had printed me maps for everywhere I needed to go.  She's so awesome.  I sometimes wonder how I got through life before her.
By the time I got to my room at the Holiday Inn it was dark.  I had three bags: one of camera gear, one of Pablo's borrowed scuba gear, and a tiny sack with some clothes.  My room had two beds and I immediately decided that one was for sleeping, the other for snacking and napping.  The building next door contained a pizza place called Longboards, specializing in taro crust, and I ordered a medium to go, for my snack bed.  After an hour walk to reacquaint myself with Kona, I had been there for a couple days with Shanti, Pablo and Jason a few years ago, I came back to the largest pizza I'd ever seen.  And it was a medium.  I started to argue that they made the wrong size for me when I saw the large walk past, for a group of about 20.  My pizza could have stuffed eight people easily, and it took up almost half of my snack bed.  I ate about four people's worth, thought I might never walk again, and threw the rest in the hallway so I wouldn't be tempted to start eating again in ten minutes.  I didn't even want it for breakfast, I never wanted to see that pizza again.
One of the reasons I finally relented and went on a trip instead of saving money was that my upstairs neighbor had a house guest for the week.  I love my neighbor, but my house just wasn't meant to have a downstairs apartment; every movement she makes is amplified and echoed, and I haven't had a full nights sleep in months.  Two people above me meant that I wouldn't sleep all week.  And wow was I surprised, sitting on my snack bed with my ridiculous-sized pizza, when all I could hear over the TV was the people above me pounding across my ceiling.  Fuuuuuuuucccckk.
At least I still had some Nyquil left from my cold.
But I'm on vacation, and the diving starts tomorrow.  All up from here.